I went to the Museum this past weekend.  Here are my observations:
Grade:  D+ .  As museums go, this one is not worthy of the august name it carries.  Hugely disappointing.  Whoever is running it, and all their deputies, should be fired.
1.  There is a huge ornate building across the street.  Built in the 1930's.  It is now called the William Jefferson Clinton Building and houses the EPA.  But it used to house the Labor department. After that it housed the other things. The inside is gilded and covered with polished marble, limestone and rare wood.  It is a masterpiece of the kinds of things government can build with an unlimited supply of other people's money.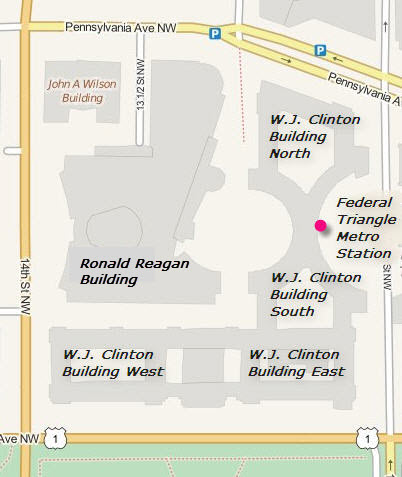 2.  Insufficient lighting.  If you are going to have a museum that displays written artifacts and intricately created human achievements, you need some decent indoor lighting.  It seems to me that the most important objective of the national Museum was "save a watt" because "polar bears" or some stupid shit.  Seriously.  This is the darkest museum I have ever been in.  I am pretty sure that they used to do a much better job at this.
3.  Empty space.  Way too much empty space.  With all the historical artifacts available to the Smithsonian system (huge warehouses full), it is criminally negligent to have huge empty rooms in the National Museum of American History .  Obviously, the Museum is keeping free space open for use when the Aristocracy needs a cool place to host a party for their friends.  This is quite common in this town.  All the museums do it.  And there are a LOT of aristocracy having private events that need swanky venues.  The crime is that the museum and staff are paid for by your tax dollars so that you, the People, can have a museum.  Not so that Aristocrats don't have to fund their own ball rooms.  As an aside, Trump was in the middle of reconstructing the old DC post office complex into a swanky privately operated hotel and ballroom complex so that Aristocrats can PAY to use it.
4.  Space devoted to NON-Museum stuff.  The gift shop and food courts take way too much space.   The gift shop even set aside special space just to sell trinkets from the FBI.  Not the other agencies, just tons of FBI shirts, coffee mugs, and other overpriced made-in-China crap for the tourists.  Totally no sense of balance, efficiency, or focus on purpose.
5.  Security Theater.  As you enter the building, you get a TSA-style check-in.  Complete with metal detectors, baggage checks (including purses and backpacks), and wanding for those special few.  There is no reason to do this.  There is no threat to America's museums.  No one is trying to bomb museums or kill museum patrons.  the right amount of security would be open doors and a few unarmed guards inside to make small children keep their greasy fingers off the artifacts.
6.  Poor traffic layout.  A museum should have exhibits arranged with traffic flow in mind.  This museum has places where the traffic stops and has to double back on itself.   Is it really too much trouble to put some duck tape arrows on the floor?
7.  Pointless children's activities.  Yes, we know that interactive daycare is very trendy at your Museum curator school.  But all the space they have devoted to it is taking away from all the space for ADULTS, who actually visit museums because they want to, not because their parents or teachers made them.  If you want your kids to do arts and crafts, and be monitored by specially trained museum staff, put them in day care.
8.  Political correctness run amok.  It is very hard to have a museum dedicated to American history and NOT convey the impression that America is a pretty AWESOME place.  But they try.